Professor Leszek Balcerowicz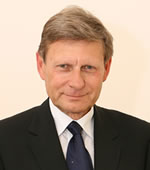 Former Polish Deputy Prime Minister, Finance Minister, President of the National Bank of Poland
Professor Leszek Balcerowicz is a highly renowned economist, legendary politician who is regarded as the architect of Poland's market reforms initiated in 1989, after the collapse of communism. With truly remarkable achievements, he has been a dominant figure in the country's developments and economic strategy between 1989 - 2007.
Yves ZLOTOWSKI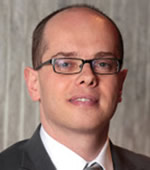 PhD Chief Economist, Country Risk and Economic Research Department, Coface
Yves Zlotowski has a PhD in Economics from the University of Paris X Nanterre. He also holds two Masters Degrees from the University of Paris I, one in Monetary Economics and one in International Relations. Since 2003, Yves has been teaching for Master's degree students in International Economics at the University of Paris Dauphine.
From 1992 to 1994, Mr. Zlotowski worked at the French Embassy in Uzbekistan as part of his military service. He then held a consultant position at the Caisse des Dépôts et Consignations.
From 1995 to 1997, Yves was Economist for the Financial Agency of the French Embassy in Moscow. He held a consultant position at CERI and CAP from 1998 to 2000. Then, from 2000 to 2001, he worked at Crédit Agricole Indosuez (Paris) as Economist within the Country Risk Department.
Mr. Zlotowski joined COFACE in 2001 as Senior Economist on Emerging Asia and CIS and has been Chief Economist there, since 2007. He also contributes to several academic and specialist journals.
Daniel DAIANU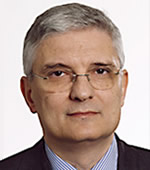 PhD First Vice-President, ASF & Former Finance Minister of Romania
Mr. Daniel Daianu is currently Professor of Economics at The School of Political and Administrative Studies in Bucharest (SNSPA) and Chairman of The Romanian Economic Society (SOREC). Previously he was Member of the European Parliament (2007-2009), co-author of the EP report on the reform of the regulation and supervision of financial markets and Chairman of the Supervisory Board of Banca Comerciala Romana (BCR; 2005-2007).
He served as Finance Minister in Romania (1997-1998), Deputy Finance Minister in 1992 and Chief Economist of the National Bank of Romania (BNR) (1992-1997). Several times, Mr. Daianu received different fellowships within Harvard University, Woodrow Wilson Center (Washington DC), NATO Defense College (Rome), International Monetary Fund (Washington DC), Organization for Economic Cooperation and Development in Europe (OECD), alongside visiting professorships at Berkeley, UCLA, Bologna University. He is also Member of the Black Sea Region Commission and the author of "Which Way Goes Capitalism?", CEU Press, Budapest/New York, 2009.
Valentin LAZEA Chief Economist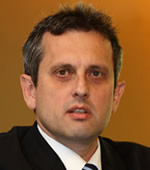 The National Bank of Romania
Born in 1958, Mr. Lazea graduated from the Faculty of Management, The Bucharest Academy of Economic Studies in 1982. Later, he attended a one-year post-graduate course in Economics at Sussex University, Brighton, as well as courses in Banking (Milan) and Financial Programming (Washington DC). Mr. Lazea has joined the National Bank of Romania in 1993, initially as Economist and later becoming Head of the Monetary Policy Division. Between 1996 - 2000, he served as Secretary of State within the Ministry of Finance.
Returning to the National Bank, he serves as Chief Economist since January 1999, with a brief interruption in 2000, when he served as Counselor to the Prime Minister (Mugur Isarescu, PhD). Besides his current job, Mr. Lazea is a Founding Member of the Romanian Center for Economic Policies (CEROPE) and President of the Board of TRANSFOND, a company that performs electronic payments for Romanian banks.